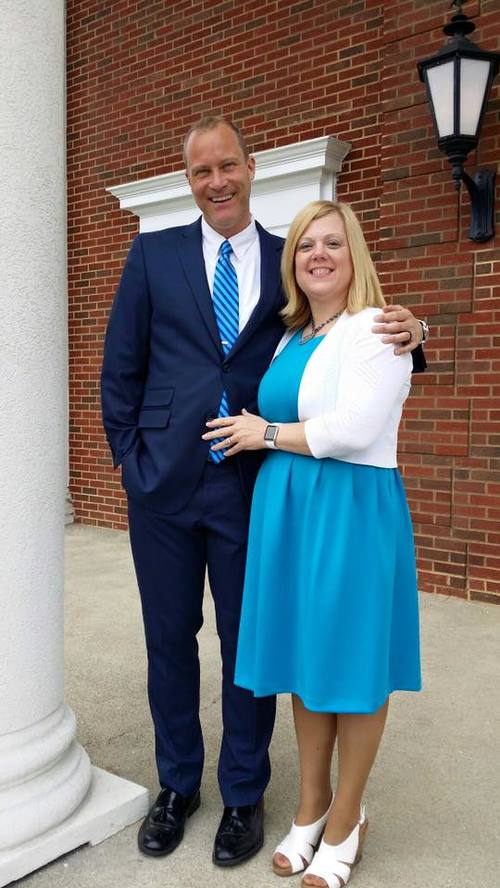 Dr. Laurie McCracken holds a Bachelor degree in Organizational Management from Bluefield College, a Masters in Special Education (M.Ed.), an Educational Specialist degree (Ed.S), and a Doctorate in Education (Ed.D), all from Liberty University. Laurie currently serves as the Assistant Principal at Northside High School in Roanoke County. She serves through CommUNITY Church in the media ministry, creating the bulletin each week, teaching our youth Sunday School class, serving as a youth leader on Wednesday nights, and as our World Changer mission leader leading trips to: WV, GA, TN and OH.
After serving 14 years of military service, Pastor Tom accepted his first pastorate in North Carolina in 1998. Pastor Tom and his family have been in the Roanoke Valley since the summer of 2000 serving one local church as the Senior Pastor for five years prior to launching CommUNITY Church on July 10th, 2005. Pastor Tom holds two undergraduate business degrees (management and marketing), one seminary degree, three master's degrees from Liberty University and an Ed.S degree in educational leadership. He is currently working on his dissertation for a doctorate in education from Liberty University*. He also serves as Adjunct Faculty at Virginia Western Community College as an Assistant Professor in the Liberal Arts and Social Science division teaching: World Religions, Old Testament, New Testament, Christianity and Ethics.
*Pastor Tom's dissertation is: Peer Intervention: Improving the rate of student intervention during bullying incidents at Southside Middle School.

Pastor Tom's Top Ten Bullet List:

1. Write a second edition of my book Being the Believing (completed in 2020 www.beingthebelieving.com) 2. Write The Guardian: An Angels Journal Discovered, in the vein of the Screwtape Letters 3. Visit the Holy Land 4. Lead another lost soul to the cross 5. Obtain my doctorate (Graduating in 2021) 6. Increase my teaching load at the college level 7. Lead CommUNITY to a debt-free status (completed in 2019) 8. Plant another church 9. Help a dying or plateauing congregation 10. Hear, from my Father, "Well done"
Associate Pastor of Senior Adult Ministries
My name is Dan Carawan and I have a Master of Arts Degree in Theology from Liberty University. My wife, Ellen, and I are the proud parents of Chris, Kayla, and grandson Maynard . We are so very excited that God has called us to serve here at CommUNITY Church. I will be focusing on several areas of ministry to support Pastor Tom and the members of CommUNITY Church. Prayer, prayer and more prayer for Pastor Tom and our membership, The Small Groups Ministry, visitation, general office administration and anything technological. As Assoc. Pastor my God called mission is to do whatever Pastor Tom calls upon me to do to the Glory of God. What are my passions? I love the Word of God and the God of the Word. I love my wife and children. I love my country. I love the church. I love to read. I love to tinker with tech stuff. Where would I go if I could vacation anywhere? I'd take my wife and daughter to Hawaii. What is my life sentence?
Jude: 20But you, beloved, building yourselves up on your most holy faith, praying in the Holy Spirit, 21keep yourselves in the love of God, waiting anxiously for the mercy of our Lord Jesus Christ to eternal life. 22And have mercy on some, who are doubting; 23save others, snatching them out of the fire; and on some have mercy with fear, hating even the garment polluted by the flesh.

Top Ten Things I Want To Accomplish:
1. To win many, many souls to the Kingdom of God2. To truly disciple men and women towards a deeper walk with Jesus.3. To be the best husband my wife could ever dream of.4. To make a difference in the lives of many children through our home.5. To be an accomplished author to the glory of God.6. To visit the Holy Lands and Hawaii with Ellen.7. To continue my education as far as God makes a way.8. To compile a Bible Study plan for every book of the Bible.9. To preach the Gospel in Africa, China, and South America.10.To hear "Well done, my good and faithful servant" from Jesus.